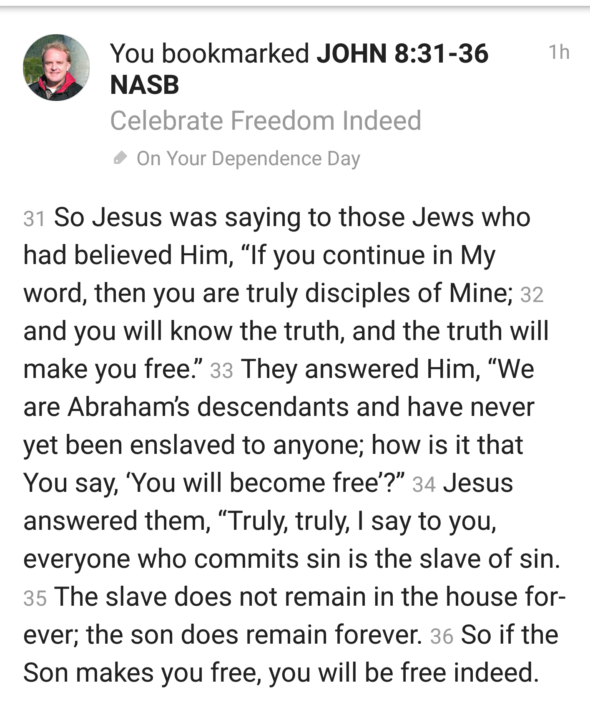 Good morning, Kids.
Before Marty Roe became the lead singer of the hugely successful group, Diamond Rio, he was a member of the Christian band, Windsong. When we were students at Lipscomb in the early 80's, I knew who Marty was, but only that he was a member of Windsong. I believe your mother actually knew him as a classmate.
The story goes that Opry Hall of Famer, Ray Pillow, loved a song written by his good friends, Bill and Kim Nash, so much that he dropped a copy of it in Marty's mailbox one day. And, I believe Marty seriously considered the song, because it reinforced his own religious conviction.
Diamond Rio went on to record the song, "In God We Still Trust," and the rest is history. They consistently received standing ovations when they performed it, and it is included on the Greatest Hits II album.
The song is a reminder that, before there can ever be an independence day, there must first be a dependence day. For me, dependence day is February 10th ('74), the day I obeyed the Gospel by being baptized into Jesus Christ. For Caleb, it's August 30th ('98). For Corban, it's July 19th ('00). And, for Carly, it's December 31st ('00). Hopefully, each of you will celebrate your "Dependence Day" as the day you became free indeed!
Have a great day!
Dad
Diamond Rio fans have created many music videos of "In God We Still Trust." Here are just a few for you to check out (Pa would be crying his eyes out):