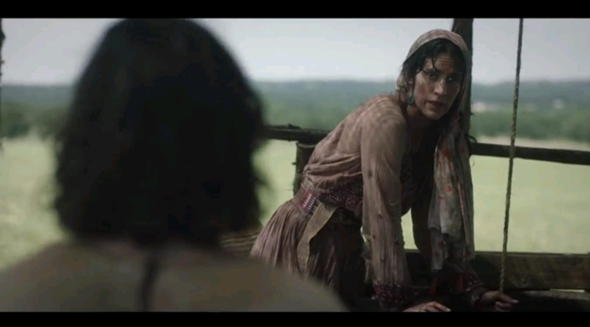 Happy Independence Day, Kids!
Americans died for the freedom celebrated today. More importantly, Christians died for the freedom they celebrate every day, freedom that is in the water.
I watched the entire 1st season of "The Chosen." It is a new TV series that is truly worthy of binge watching. I love the final scene in the season finale, of Jesus talking to a Samaritan woman at Jacob's well. While she drew water that sustains physical life, Jesus introduced to her the idea of water that sustains spiritual life (John:4:7-30).
The Bible also says that blood sustains physical life, and when sacrificed to atone for sin, it sustains spiritual life (Leviticus 17:11). This reminds me of the crucifixion. A Roman soldier thrust a sword into Jesus' side while He was hanging on the cross. The Bible says, "…, and immediately blood and water came out" (John 19:34). These two substances that sustain physical life flowed out of His body.
It's interesting that Jesus gave the command to drink wine (i.e., fruit of the vine or grape juice) to remember the blood that flowed out of His body (Matthew 26:26-29, 1 Corinthians 11:23-26).
And, this reminds me of a scene in episode 5, of Jesus turning water to wine (John 2:1-11). I'm glad that His mother's instructions to the servants are included in the scene, "Whatever He says to you, do it." And, what exactly did Jesus say to them? He told them to go to the water, and fill the jars. Why didn't Jesus just miraculously cause wine to appear in the jars, up to the very brim? He had the power to do so, but instead He commanded the servants to participate by going to the water.
Jesus commanded that all who believe in Him are to participate in salvation, through faith in the working of God (Colossians 2:8-14), by going to the water (Mark 16:15-16). To be baptized into Jesus is to be crucified with Jesus. The water that sustains spiritual life is the symbolic grave where we come into contact with the blood that sustains spiritual life. Paul explained this concept in great detail in chapter 6 of his letter to the Romans.
Paul emphasized the main idea in verses 4-7, "Therefore we have been buried with Him through baptism into death, so that as Christ was raised from the dead through the glory of the Father, so we too might walk in newness of life. For if we have become united with Him in the likeness of His death, certainly we shall also be in the likeness of His resurrection, knowing this, that our old self was crucified with Him, in order that our body of sin might be done away with, so that we would no longer be slaves to sin; for he who has died is freed from sin."
So there you have it, Freedom Is In the Water!
Have a great day!
Dad
Jesus & the Woman at the Well, from "The Chosen":
Jesus Turns Water to Wine, from "The Chosen":
Check it out, "Water," by David & Maggie Beth Phelps:
Check it out, "Ghost Town (Freedom)," by David Phelps: