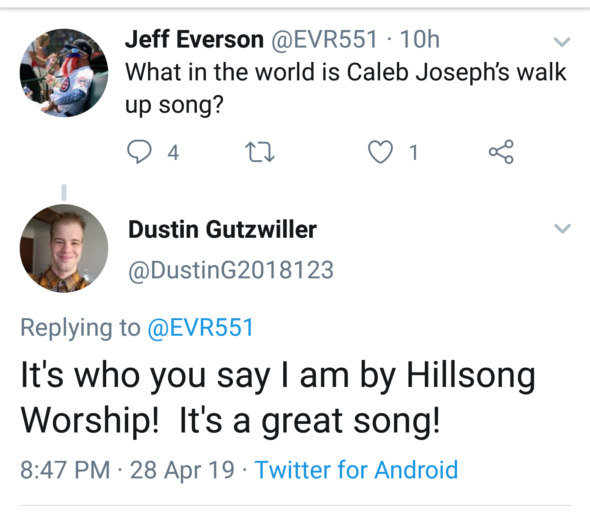 The Witness in a Walk-up Song
Some may question Caleb's choice of a walk-up song. If, however, the purpose of a walk-up song is to motivate the player, then I believe it is an excellent choice.
In a game in which the failure rate for a hitter is 70% – 80%, this song reminds him of how much he is truly worth. Caleb is not perfect, none of us are. Which is why we need the perfect Jesus to make us perfect.
Check it out, "Who You Say I Am," by Hillsong Worship (the song is also featured in "Overcomer," the movie by the Kendrick Brothers):
Who You Say I Am
Who am I that the highest King
Would welcome me?
I was lost but He brought me in
Oh His love for me
Oh His love for me
Who the Son sets free
Oh is free indeed
I'm a child of God
Yes I am
Free at last,
He has ransomed me
His grace runs deep
While I was a slave to sin
Jesus died for me
Yes He died for me
Who the Son sets free
Oh is free indeed
I'm a child of God
Yes I am
In my Father's house
There's a place for me
I'm a child of God
Yes I am
I am chosen
Not forsaken
I am who You say I am
You are for me
Not against me
I am who You say I am
I am who You say I am
Oh I am who You say I am
Yes I am who You say I am
Songwriters:
Ben Fielding / Reuben Morgan
Who You Say I Am lyrics
© Capitol Christian Music Group
Caleb's walk-up song while playing for the Baltimore Orioles was "At the Cross."
Check it out, "At the Cross," by Chris Tomlin: