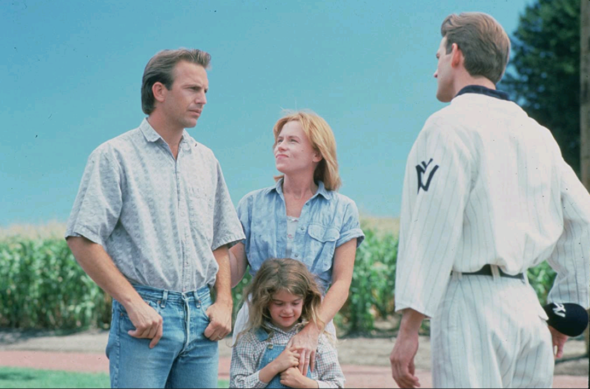 Happy Father's Day, Sons!
Colm & Caitriona Kirwan had just performed their song, "Stop," and I shouted from my bar stool, "Record it," over the enthusiastic applause from their loyal fans at McNamara's in Nashville. And, I believe their reply (which I could barely hear over the applause) was, "We're workin' on it!" I'm thinking about that experience, today on Father's Day, because of the message conveyed in their lyrics.
It's a message similar to the one that serves as the plot of one of my all-time favorite movies, "Field of Dreams." It is vividly on display in the climactic scene, which portrays Kevin Costner's character, Ray Kinsella, saying to his father as he is walking away toward the outfield wall of cornstalks, "Hey, Dad, you wanna have a catch?" And his father replies, "I'd like that."
These messages run parallel to Moses' message in Psalms 90:12, "So teach us to number our days, that we may present to You a heart of wisdom," and Paul's message in Ephesians 5:15-16, "Therefore be careful how you walk, not as unwise men but as wise, making the most of your time, because the days are evil." These two passages were mentioned in a sermon, "Time and Eternity," that instilled this message within my heart.
If we're not careful and wise, we risk losing valuable time that we could be spending with the most important people in our lives, our physical & spiritual families.
Pa's career as a pharmaceutical salesman required an enormous amount of travel. One of his favorite songs, "Cat's in the Cradle," was a constant reminder to him of how important it was to make time for family. And, he made time for his spiritual family too.
So, my sons, this is my message to you. As husbands to your wives, as fathers to your children, and as leaders of your families, "Stop & Have a Catch!"
I love you guys!
Dad
Check it out, "Stop," by Colm & Caitriona Kirwan:
Check out the climactic scene in "Field of Dreams":
Check it out, "Cat's in the Cradle," by Harry Chapin:
And, in memory of the late George Donaldson, here are his renditions of Harry Chapin's song and a song written by the legendary, Phil Coulter. George was an original member of Celtic Thunder, one of my favorite groups. To me, he quietly emerged as the group's father figure. Unfortunately, as did Harry, George died suddenly leaving behind his wife and young daughter.
Check it out, "Cat's in the Cradle," by George Donaldson:
Check it out, "The Old Man," by George Donaldson: