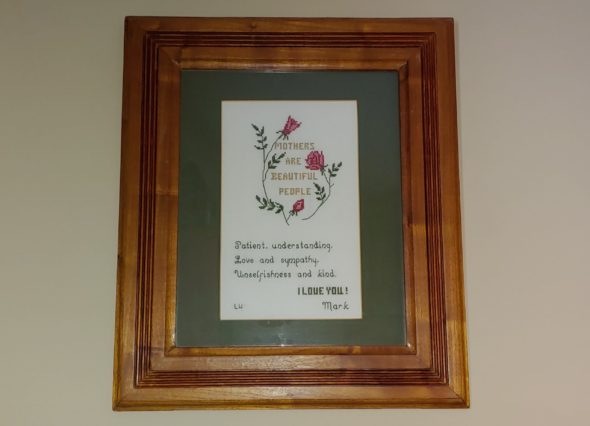 Happy Mother's Day, Daughters!
While we were dating, one of the kindest things your mother(-in-law) did for me was actually something she did for Mimi (fixing me Gramma Kemp's chicken & dumplings was very kind too). It was this beautiful needlework of a personal message that we gave her on Mother's Day. Mimi loved it, and she hung it on the wall just inside the front door for all to see.
It was still hanging there at the base of the stairs the day we moved Mimi & Pa to Franklin. When I took it down, it was hanging just inches above a chair that lifted Mimi & Pa up the stairs to their bedroom. The chair lift was one of many special chairs that they needed as they grew older.
Carly, you might remember the power chairs that they rented so that they could enjoy a day at Silver Dollar City with you grandkids. Then, there was the "modified" La-Z-Boy chair that Pa needed while he waited for a liver transplant; it helped him to stand up. After that, I noticed that he needed a special chair in the bathroom for the same reason.
I think it was Mimi who first needed a walker, and Pa bought her one that had a chair built in so that she could sit down and rest. Not long after that, Mimi needed a wheelchair, and so did Pa. I am thankful for all of those special chairs that served Mimi & Pa so well.
But, the chairs I'm most thankful for are those that they sat in at the kitchen table, side by side. Mimi & Pa started their day sipping a cup of coffee and eating some toast. They thanked God for their daily bread, and they prayed, "Dear Father in Heaven, please keep our children and grandchildren safe and protect them from the evil one." And, that's why those chairs were so special. They were chairs of prayers.
I want you three to know that I pray for you. Imagine reading the words hanging on the wall, written with beautiful needlework:
Mothers Are Beautiful People
Patient, understanding,
Love and sympathy,
Unselfishness and kind.
Now imagine riding Mimi & Pa's chair lift as I lift you up in prayer to our Father in Heaven.
I love you!
Dad
On this Mother's Day, I want to dedicate to you three the latest children's lullaby released by Getty Music.
Check it out, "Keep Letting the Light In," by Kristyn Getty:
Watch Kristyn tell the story behind the song: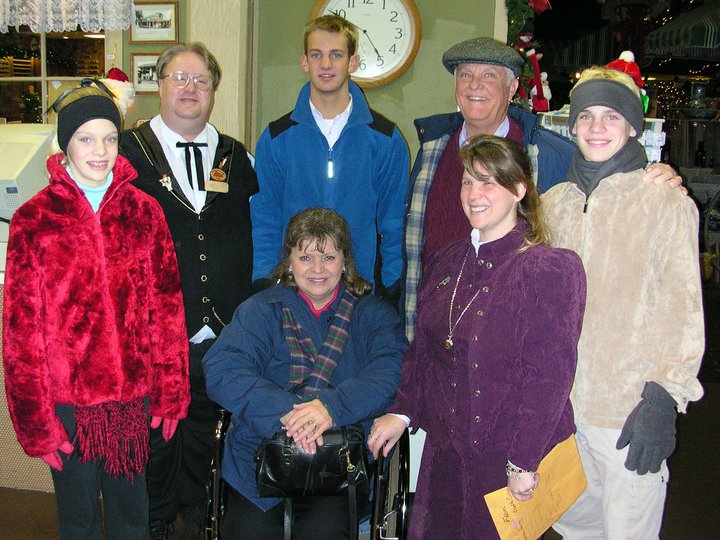 Thank you, Silver Dollar City, for providing wheelchairs and power chairs for your guests!
Happy Mother's Day, Mom!