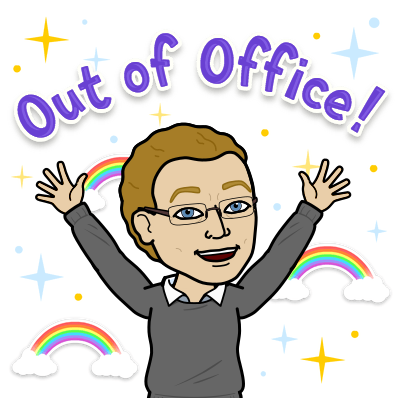 Good morning, Kids, and a Happy Labor Day to you.
My daily Bible reading the last couple of days has added another dimension to my observance of Labor Day. As a result of reading the wise words found in the Proverbs and of the Preacher in Ecclesiastes, I am reflecting on my attitude toward work, and asking myself the question, "Does my attitude align with God's will for my work life?"
The Preacher in Ecclesiastes said, "Vanity of vanities! All is vanity. What advantage does man have in all his work which he does under the sun? … And I set my mind to seek and explore by wisdom concerning all that has been done under heaven. It is a grievous task which God has given to the sons of men to be afflicted with. I have seen all the works which have been done under the sun, and behold, all is vanity and striving after wind." (1:2-3,13-14)
The Preacher drew some conclusions from his exploration:
"There is nothing better for a man than to eat and drink and tell himself that his labor is good. This also I have seen that it is from the hand of God. For who can eat and who can have enjoyment without Him?" (2:24-25) This reminds me of Paul's words to Timothy, "If we have food and covering, with these we shall be content." (I Timothy 6:8) And, I love the wisdom in Proverbs 16:26, "A worker's appetite works for him, for his hunger urges him on," which clearly explains a fact of life, "We work to eat, and we eat to work."
"I know that there is nothing better for them than to rejoice and to do good in one's lifetime; moreover, that every man who eats and drinks sees good in all his labor – it is the gift of God. … I have seen that nothing is better than that man should be happy in his activities, for that is his lot." (3:12,22)
"Two are better than one because they have a good return for their labor. For if either of them falls, the one will lift up his companion. But woe to the one who falls when there is not another to lift him up. Furthermore, if two lie down together they keep warm, but how can one be warm alone? And if one can overpower him who is alone, two can resist him. A cord of three strands is not quickly torn apart. … Enjoy life with the woman whom you love all the days of your fleeting life which He has given to you under the sun; for this is your reward in life and in your toil in which you have labored under the sun." (4:9-12, 9:9)
"Here is what I have seen to be good and fitting: to eat, to drink and enjoy oneself in all one's labor in which he toils under the sun during the few years of his life which God has given him; for this is his reward. Furthermore, as for every man to whom God has given riches and wealth, He has also empowered him to eat from them and to receive his reward and rejoice in his labor; this is the gift of God. For he will not often consider the years of his life, because God keeps him occupied with the gladness of his heart." (5:18-20)
"The conclusion, when all has been heard, is: fear God and keep His commandments, because this applies to every person. For God will bring every act to judgment, everything which is hidden, whether it is good or evil." (12:13-14) As it relates to work, the Preacher's final conclusion reminds me of Paul's words to the Thessalonians & Colossians. Clearly, God commands us all to work, and He rewards our work, not only with food and drink, but with eternity in Heaven.
Paul said, "For even when we were with you, we used to give you this order: if anyone is not willing to work, then he is not to eat, either. For we hear that some among you are leading an undisciplined life, doing no work at all, but acting like busybodies. Now such persons we command and exhort in the Lord Jesus Christ to work in quiet fashion and eat their own bread. But as for you, brethren, do not grow weary of doing good. … Whatever you do, do your work heartily, as for the Lord rather than for men, knowing that from the Lord you will receive the reward of the inheritance. It is the Lord Christ whom you serve." (2 Thessalonians 3:10-13, Colossians 3:23-24)
Do I view my work as something for which the Lord will reward me, both physically & spiritually? Does my enjoyment of those rewards distract me from growing old? Am I working as for the Lord? So there you have it, another dimension to the observance of Labor Day.
Have a great day!
Dad
Check out the old, familiar hymn, "I Want to Be a Worker for the Lord":
What does it mean to be a worker for the Lord? Maybe this song will help answer that question, "The Servant Song":
Check out another hymn, "Servant's Song," by the Florida College Chorus:
Check out, "The History of Labor Day," by the History Channel: