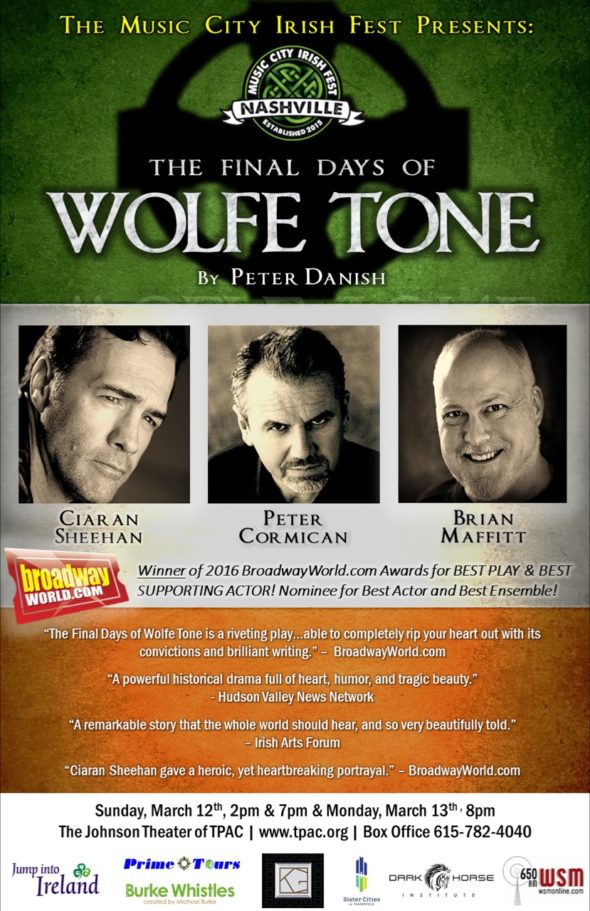 Who's Afraid of Big Bad Wolfe?
I can't wait for my date with my beautiful daughter, Carly (thanks, Jackson & Oakley, for sharing her for a night). We plan to enjoy a nice dinner at Brentwood's newest Mexican restaurant, Uncle Julio's, before driving to downtown Nashville for a Broadway play at the Tennessee Performing Arts Center.
I'm really excited about the play, "The Final Days of Wolfe Tone," which is one of many exciting events planned for the 3rd annual Music City Irish Fest. The founder and Executive Director of the Festival stated, "I guess most people think of music, dance and beer when it comes to Irish culture – not a play at TPAC." And, while there are plenty of events showcasing the music and dance aspect of Irish culture (e.g., Altan at the Franklin Theatre, The Chieftains at the Schermerhorn Symphony Center, and the Nashville Irish Step Dancers at the Texas Troubadour Theatre, to name a few), The Final Days of Wolfe Tone performance is a rare opportunity to dramatically dive deep into Irish history.
I encourage you to visit Music City Irish Fest to discover all the exciting events planned, beginning with the Altan concert on March 1, and culminating with the St. Patrick's Day party on March 17. Mark your calendar and buy your tickets now – the festivities will begin before you know it.
Take a look at more of the impressive publicity for the Broadway play at TPAC:
The Final Days of Wolfe Tone
presented by Music City Irish Fest at TPAC March 12-13
Direct from a sold-out run in New York comes the BroadwayWorld.com Winner of Best New Play and Best Supporting Actor of 2016: THE FINAL DAYS OF WOLFE TONE. Ciarán Sheehan (star of Phantom of the Opera and Les Miserables) leads a cast of Broadway veterans in a new drama that chronicles the final days of "the George Washington of Ireland," who led the Irish Rebellion of 1798 against the British.
"The Final Days of Wolfe Tone is a riveting play with fully realized characters and harrowing moments. This play was able to completely rip my heart out with its convictions and brilliant writing." – BroadwayWorld.com
"A powerful historical drama full of heart, humor, and tragic beauty." – Hudson Valley News Network
"A remarkable story that the whole world should hear, and so very beautifully told." – Irish Arts Forum
"Ciarán Sheehan gave a heroic, yet heartbreaking portrayal," – BroadwayWorld.com
Set in 1793, it tells the story of Wolfe Tone's final days' imprisonment leading up to his execution; three days on death row, allowed no visitors, no friends, no family, only a priest to hear his final confession. Fearing his life story and all his work will be buried by the British, his best friend Tom Wilson disguises himself as a priest to gain entry to the prison. Under the guise of his final confession, Tone dictates his biography to Wilson, so that it can be smuggled out of England and published. Rather than bemoan his fate, he displays a cunning sense of wit and a bitterly sardonic sense of humor. As one of the founding fathers of the Irish revolution, Tone rubbed elbows with such historical luminaries as Napoleon, George Washington and Alexander Hamilton and proceeds to chronicle his dealings with each of them and their respective roles in his story. Their saga is full of colorful historical characters as well as hilarious anecdotes about great historical figures, all told with that unique Irish dramatic charm.
CIARÁN SHEEHAN – LEAD ROLE

Ciarán Sheehan, a native of Dublin, Ireland, has performed the role of the Phantom in The Phantom of the Opera to critical acclaim both on Broadway and in Toronto, Canada. Other Broadway roles include Raoul in The Phantom of the Opera, and Babet and Marius in Les Miserables. Broadway concerts include Sir Dinadan in Camelot with Jeremy Irons, and Woody in Finian's Rainbow opposite Melissa Errico. As a member of The Irish Rep, Ciarán has appeared in many of their productions including Hal Prince's Grandchild of Kings, and Frank McCourt's The Irish . . . And How They Got That Way. Recent work includes Adam in Fifty Words, Tone in The Final Days of Wolfe Tone, both in New York, Billy Bigelow in Carousel in Boston, soon to play Bartell d'Arcy in Joyce's The Dead with Kate Burton in New York, and is currently producing and starring in an Off-Broadway production of O'Neill's Anna Christie.
Ciarán has had the great honor to sing the memorial mass for John and Carolyn Kennedy, and the funeral mass for Beau Biden, at the request of Vice President Joe Biden, both televised worldwide. Ciarán has performed in three PBS Specials: The Irish . . . And How They Got That Way, From Galway to Broadway, and Ciarán an Evening With Friends.