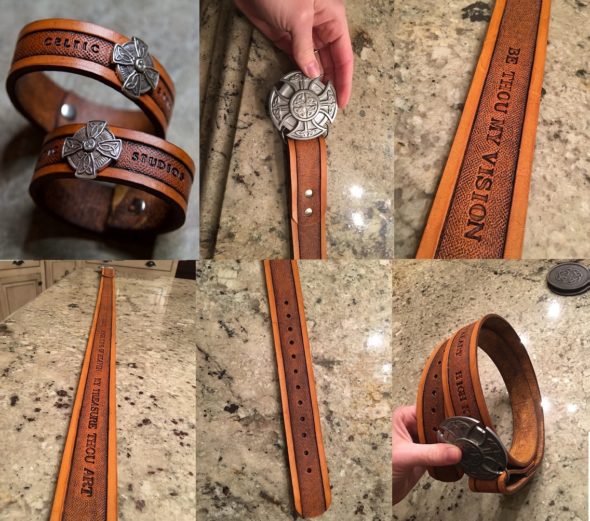 I did exactly what you would have done, right?  I took it out of the bubble mailer and held it right up to my nose to enjoy the aroma of a brand new leather belt.  It's hard to beat the smell of brand new leather – growing up, I enjoyed it each time I purchased a new baseball glove.
And, yes, it certainly is a BARDiful day, because the order I placed with Bard Craft for a custom leather belt arrived ahead of schedule.  Excitedly, I opened up the bubble mailer to reveal a custom belt that exceeded all my expectations.  You see, I was in the market for a new leather belt, and when I saw the custom "Celtic Studios" bracelets on the company's web site, I inquired about the possibility of the same design in the format of a belt to fit a 36 inch or so waist (turned out to be a 40 inch waist – boy was I ever dreaming when I initially said a 36 inch waist).
Jessica Willis, company founder, enthusiastically accepted the challenge.  I explained to her that I wanted to substitute "Be Thou My Vision," the title of my favorite Irish hymn, for the "Celtic Studios" lettering.  Being the extremely talented singer/songwriter that she is, Jessica didn't stop there, but drew more inspiration from the hymn and lettered the following, "Be Thou My Vision  O Lord of My Heart  High King of Heaven  My Treasure Thou Art."  To trust Bard's creative judgment is to get a much more poetic result.  Not only that, she tracked down the perfect Celtic cross buckle to complement the lyrics of my favorite Irish hymn.
A job well done, Jessica.  Check out Bard Craft for quality custom leather products.  Here is a nice video that showcases her operation and some of her products.
Mark Joseph